Subscription - NOSPR
Subscription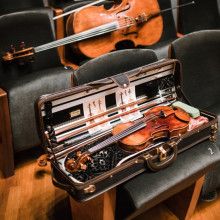 Subscription concerts have been the hallmark of the Polish National Radio Symphony Orchestra and its activity for decades. This is the flagship concert series of the ensemble, which thoroughly presents its symphonic concert repertoire and grand vocal-instrumental forms. Each concert is an occasion to meet prominent conductors and excellent soloists.
Subscriptions and tickets for 2021/2022 season
Important dates
16th August – announcement of the concert programme for the 2021/2022 NOSPR season
from 16th August to 4th September – exchange of subscriptions with a simultaneous pre-sale of the new season's tickets for holders of NOSPR subscriptions
the exchange applies also to holders of frozen season tickets/exchange and pre-sale only at NOSPR ticket offices/telephone reservations
from 7th to 12th September – possibility to buy subsequent series for current holders of subscriptions, season pre-sale for NOSPR subscribers/open subscription sale – Join the community of NOSPR subscribers!
at the NOSPR ticket office or online/phone reservations
from 14th September – open sale of tickets for concerts of the 2021/2022 NOSPR season
at the NOSPR ticket office or online/phone reservations
* We would like to remind you about the possibility to account for the funds for the concerts of 2020/2021 NOSPR season concerts or to donate them to NOSPR. Your patronage allows us to develop the NOSPR online, host in your homes and share the music with those who cannot visit us.
More informations:
Thursday subscription concerts – S1
Friday subscription concerts – S2
Sunday matinee – S3
The Box Office
Plac Wojciecha Kilara 1, 40–202 Katowice
e-mail: kasa@nospr.org.pl
tel: +48 32 73 25 312 or 320
Subscribers bonuses
Benefits*
Subscription S1, S2 lub S3
Subscription Silver (2 subscriptions)
Subscription Gold (3 subscriptions)
Up to 40% off the regular ticket price
Guarantee of maintaining your place in the NOSPR
Opportunity to participate in lectures before selected concerts
Buying priority and 10% discount for selected concerts*
5% discount at Bookiestra
NEW! 10% discount in PWM online shop (www.pwm.com.pl/pl/sklep
NEW! 10% discount on subscriptions to Ruch Muzyczny
Annual program book as a gift
Invitations to NOSPR open rehearsals and special events
Visiting NOSPR with a guide for 1 PLN – see the NOSPR organ for the first time!
Invitation to a special concert for subscription holders
* NOSPR reserves the right to change the benefits for subscription holders in the case of further pandemic-related restrictions.
Dear Subscriber! Information about other events, priority ticket purchases and special offers addressed to subscription holders is directed to your email address. If you wish to take part in these opportunities, please provide us with your contact details and consent to their processing by NOSPR.