Andrzej Ciepliński - NOSPR
Andrzej Ciepliński
Clarinet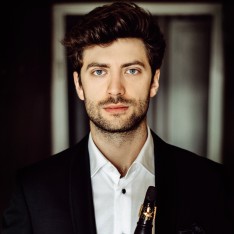 Andrzej Ciepliński is a distinguished Polish clarinetist who has gained recognition from a wide audience, performing as a soloist with such orchestras as Polish Radio Orchestra in Warsaw, Opole Philharmonic Orchestra, NOSPR, AUKSO, Lviv Philharmonic Orchestra, Slovak Sinfonietta.
He has given concerts under the baton of Krzysztof Penderecki, John Axelrod, Jerzy Maksymiuk, Marek Moś, Zsolt Hamar, Boon Hua Lien, Tung-Chieh Chuang.
He conducts lively chamber music activity which he has presented by taking part in a lot of renowned festivals includingZermatt Music Festival, Festspiele Mecklenburg-Vorpommern, TRIALOGconcerts in Allensbach, Krzyżowa-Music Festival, Emanacje, Kwartesencja, Kwadrofonik.
He has had a chance to cooperate with such eminent artists as: Sergio Azzolini, Anastasia Kobekina, Radovan Vlatković,Viviane Hagner, Emanuel Abbühl, Matthias Kirschnereit, Sarah Aristidou, Annika Treutler, Claudio Bohórquez,Janusz Wawrowski, Jakub Jakowicz, Marcin Zdunik, Katarzyna Budnik, Szymon Nehring, Tymoteusz Bies, Piotr Sałajczyk, Royal String Quartet.
In 2015, as a representative of the Polish Radio, he won a prestigious title of New Talent of The Year at the International Forum of Young Performers in Bratislava, held by European Broadcasting Union (EBU). He is as well a laurate of many clarinet competitions.
Continuing work of his grandfather, the Polish trombonist Juliusz Pietrachowicz, Andrzej Ciepliński is involved in creating new clarinet literature through collaborating with many composers. He also promotes Polish music and in his repertoire we can find all clarinet masterpieces by Krzysztof Penderecki and Mieczysław Weinberg.
He is a graduate from the class of professor Arkadiusz Adamski at the Karol Szymanowski Academy of Music in Katowice where he was awarded the Primus Inter Pares medal. At present, he is a student of the class of François Benda at Hochschule für Musik in Basel.
Andrzej Ciepliński was awarded a scholarship of the Minister of Culture and National Heritage for his outstanding achievements.