Dorota Miśkiewicz - NOSPR
Dorota Miśkiewicz
Vocal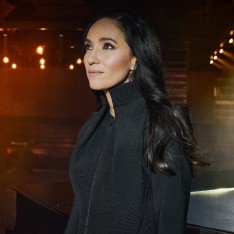 photo by Iza Grzybowska
Female Vocalist of the Year 2019 according to Jazz Forum magazine readers.
Talented, musical, blessed with a warm voice and beauty, Polish jazz singer Dorota Miśkiewicz was one of the few to sing and record a duo with Cesária Évora. This collaboration led to another, with a world-renowned pianist, Stefano Bollani, featured on an Italian album Capo Verde terra d'amore. Dorota has also performed with: Nigel Kennedy, David Murray, Louis Winsberg, Kepa Junkera, Tomasz Stańko and a number of Polish artists. Going back to the beginnings of Dorota's carrier one has to mention her collaboration with the legend of Polish jazz, Włodzimierz Nahorny, with whom she had performed all over the world presenting the works of Chopin, Szymanowski, and Karłowicz in jazz arrangements.
Dorota's interests and capabilities are both broad. She learned classical music in schools (graduated as a violinist from the Fryderyk Chopin University of Music in Warsaw), and jazz at home (her father, Henryk Miśkiewicz, is a renowned saxophonist, brother is a drummer recording for ECM). The singer combines her acknowledgement for Polish music with inspiration sought in the music from other countries.
She has appeared at numerous festivals: Jazz Jamboree, Międzynarodowy Festiwal Jazzu Tradycyjnego Old Jazz Meeting Złota Tarka, Ingolstädter Jazztage, Jazz Rally Düsseldorf, Edinburgh Jazz & Blues Festival, the Ludwig van Beethoven Easter Festival, Sacrum Profanum, and several times in the biggest National Festival of Polish Song in Opole.
She has also found time to record a steady stream of solo albums: Dorota Miśkiewicz Goes to Heaven – Zatrzymaj się in 2002 (nominated for Fryderyk Award in the Jazz Music category); Pod rzęsami in 2005; Caminho in 2008 (a pop Gold Disc and two Fryderyk Award nominations); Ale in 2012; Lutosławski, Tuwim. Piosenki nie tylko dla dzieci recorded with the ensemble Kwadrofonik and released in 2013 (Gold Disc, nomination to Fryderyk Award in the Classical Music category); Best of (2016), containing several of her most important songs as well as premiere recordings; Piano.pl recorded live and published also in 2016, which includes the most beautiful songs performed by 13 remarkable pianists (Leszek Możdżer, Marcin Wasilewski, or Piotr Orzechowski "Pianohoooligan") accompanied by Atom String Quartet.
When we listen to her albums we notice how the artist moves successively from jazz (Dorota Miśkiewicz Goes to Heaven – Zatrzymaj się), through gentle pop (Pod rzęsami), a fascination with the rhythms of Brazil (Ale and Caminho recorded with brazilian percussionist Luiz Guello), up to her experiments with African music (thanks to the duet with Cesária Évora), Balkan music (by recording the song Jovano Jovanke on board with Yugopolis ensemble) and she also engaged in free jazz and classical music projects of Włodzimierz Nahorny's dedicated to Polish composers (Chopin, Karłowicz, Szymanowski). She can also sing for children! The album recorded with the Kwadrofonik, whose musicians specialize in classical music – Lutosławski, Tuwim. Piosenki nie tylko dla dzieci – can enchant both children and parents. This music is played on two pianos and dozens other instruments such as marimba, cymbals, xylophone, cajon, udu, kalimba, gongs. Instrumental side of the record shimmers with color, it is extremely soothing and inspiring.
As an artist she is nostalgic, old-fashioned and at the same time constantly searching, always sensitive to new sounds and experiments. She can be recognized by her atmospheric, lyrical compositions which straddle the boundaries between musical genres, making them hard to categorize. Elegant and modest yet charismatic on stage, she instantly establishes a rapport with the audience, and her voice is as enchanting as she is herself.