Federico Calcagno & The Dolphians: - NOSPR
Federico Calcagno & The Dolphians: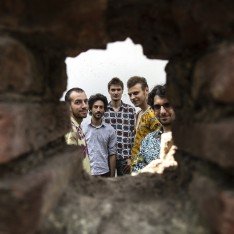 Clarinetist-composer Federico Calcagno - defined as "The new bishop of the best Italian and European Jazz [A. Bazzurro, All About Jazz] - emphasizes the importance of multi-instrumentalist Eric Dolphy's music and influence through the sextet "The Dolphians". The project released the first album "From Another Planet" – which has been catalogued in the list of the best 100 albums of 2019 by JAZZIT Italian magazine. This sextet shows a great collective interaction and enthusiasm; it declares love to the Blue Note sounds from the '60s, re-elaborating the masterpiece Out to Lunch and giving a contemporary rebirth to Eric Dolphy's less known compositions, as "Jim Crow".
Lately, the 70% of the repertoire is based on original and unreleased compositions written by the band leader, showing a new musical direction into little-explored territories.
Indeed, "The Dolphians" aim is to continue what Dolphy left at the moment of his premature death through imagination, creativity, recreation and high risk.
The sextet is the winner of two important prizes in Italy: "Nuova Generazione Jazz" 2021 and "Concorso Bettinardi 2021 - Band Section", and it received the 2nd prize in Jazz Juniors Competition 2021 in Krakow.