Gilbert Varga - NOSPR
Gilbert Varga
Conductor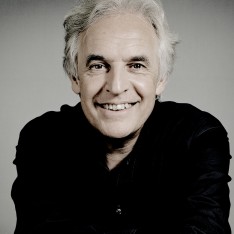 photo by Felix Broede
Gilbert Varga, son of celebrated Hungarian violinist Tibor Varga, conducts with distinctive presence and flair. A commanding and authoritative figure on the podium, Varga is repeatedly acclaimed for performances displaying exquisite textures, a broad range of colors, and subtle use of dynamics. Renowned for his elegant and exceptionally clear baton technique, Varga has held positions with and guest conducted many of the major orchestras across the globe.
Gilbert Varga studied under three very different and distinctive maestros: Franco Ferrara, Sergiu Celibidache, and Charles Bruck. In the earlier part of his conducting career, Varga concentrated on work with chamber orchestras, particularly the Tibor Varga Chamber Orchestra, before rapidly developing a reputation as a symphonic conductor. He was Chief Conductor of the Hofer Symphoniker (1980–1985); Chief Conductor of the Philharmonia Hungarica in Marl (1985–1990), conducting their debut tour to Hungary with Yehudi Menuhin; Permanent Guest Conductor of the Stuttgart Chamber Orchestra (1991–1995); and Principal Guest of the Malmö Symphony (1997–2000).
In 1997 Varga was appointed Music Director of the Basque National Orchestra, leading them through ten seasons and on several international tours, and between 2013–2018 he was Principal Conductor of the Taipei Symphony Orchestra, conducting them on tours to Europe, the US, and Japan.
As a guest conductor, Varga has led many of the world's top orchestras including the Philadelphia Orchestra, Radio Symphony Berlin, Orchestre de Paris, Oslo Philharmonic, Sydney Symphony orchestras. From 2019–2021 he was Chief Conductor of the Pannon Philharmonic Orchestra, resident in the world-class Kodály Centre in Pécs, Hungary.
Varga's discography includes recordings with various labels including ASV, Koch International, and Claves Records. His latest recording of cello concertos by Shostakovich & Martinů with Deutsches Symphonie-Orchester Berlin and Christian Poltéra on BIS was released in May 2017, and his 2011 recording of concertos by Ravel and Prokofiev with Deutsches Symphonie-Orchester Berlin and Anna Vinnitskaya on Naïve Records was given five stars by BBC Music Magazine.