Mihály Berecz - NOSPR
Mihály Berecz
Piano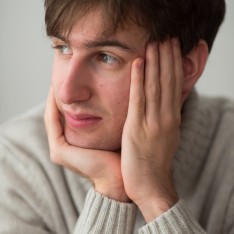 Pianist Mihály Berecz is one of the most exciting young talents to have emerged from Hungary in recent years. Born in Budapest, Hungary in 1997, Mihály Berecz began studying the violin at the age of six at the Saint Stephen's Music School in Budapest. Whilst continuing to play violin in orchestras, three years later he chose to devote his studies to the piano with Edit Major and Erzsébet Belák. Mihály graduated from London's Royal Academy of Music studying with Christopher Elton and Joanna MacGregor.
As winner of the Debut Berlin International Concerto Competition in 2017, Mihály made his debut at the Philharmonie, Berlin in June 2017 with the German National Orchestra.
Mihály's previous awards include the gold prize in the II. Manhattan International Music Competition and the Harriet Cohen Bach Prize at the Royal Academy of Music.
He performed Liszt's Hungarian Fantasy at the Konzerthaus, Berlin, in the 2013 Young Euro Classic Festival as well as with Tamás Vásáry at the Hungarian State Opera with great success. Moreover, at the invitation of Zoltán Kocsis, Mihály made his debut at the Béla Bartók National Concert Hall in 2013 in a performance of Ravel's Concerto in G major which was broadcast live by the Bartók Rádió. He received critical acclaim for his performances of this work in 2016 as did his performance of Beethoven's Piano Concerto No. 4 at the Franz Liszt Academy later that year. In the 2020/2021 season, Mihály performed Bach's Goldberg Variations at the National Concert Hall in Budapest with great success, returned to play with Concerto Budapest Symphony Orchestra conducted by András Keller, and started a concert series at the Hungarian Radio where he performs the complete works of Béla Bartók for solo piano.
Having regularly featured in the Beethoven in Budapest Festivals, Mihály combined his love of Beethoven with an interest in historically influenced performance in a concert of Beethoven's Piano Concerto No. 2 and Mozart's Piano Concerto K. 456 on an Anton Walter fortepiano-copy with the Orfeo Orchestra and György Vashegyi at the Esterházy Palace in Fertőd.
He has participated in masterclasses with distinguished musicians including Arie Vardi, Imogen Cooper, Pascal Devoyon, Ian Fountain, Tamás Vásáry, and Malcolm Bilson.