Thibaud Rezzouk - NOSPR
Thibaud Rezzouk
Oboe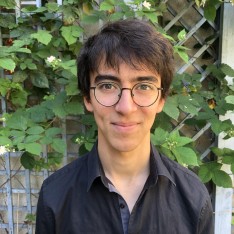 Recent laureate of the 13th International Michał Spisak International Music Competition, Thibaud Rezzouk is a 20 years old French oboist.
During his studies, he had the opportunity to work with professors Steven Duchesne, Alix Pengili, Hélène Devilleneuve, Nora Cismondi, Hélène Gueuret, Jean-Claude Jaboulay. He has performed in concert with various orchestras, such as the L'Orchestre de l'Opéra de Rouen, the Orchestre Philharmonique de Radio France and the Orchestre Dijon Bourgogne.
He devotes himself to the entire repertoire of his instrument, from the baroque to the contemporary, which he is currently studying alongside David Walter and Philippe Grauvogel at the Dijon School of Music, and is particularly fond of 20th century French composers. He has also developed a passion for the organ, which he studied with François Ménissier and Nicolas Jacquin, pupils of Louis Thiry.
For this recital, which will be his first experience as a soloist, he wishes to explore more specifically major pieces of the oboe repertoire of the 19th and 20th centuries.