Turicum Quartet - NOSPR
Turicum Quartet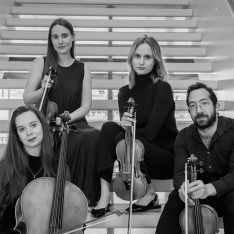 The Turicum Quartet is based in Switzerland, connecting musicians from four different corners of the world. Already some months after their founding, they were awarded second prize at the Kiwanis Music Competition in Zurich (2022). Invitations followed right away: 2023 included their debut in Tonhalle Zurich with music of the Japanese composer Toshio Hosokawa, a collaboration with the renowned Gringolts Quartet at the Mizmorim Festival and a series of concerts in Germany for the Chamber Music Academy Villa Musica.
Recently they were honoured to work with Hariolf Schlichtig (Cherubini Quartet) and Markus Fleck (Casal Quartet).
The members of the Turicum Quartet met at the Zurich University of the Arts. They are receiving guidance and support from Ilya Gringolts and Thomas Grossenbacher. They consider their various cultural backgrounds as an enrichment to perform music together, broadening their horizons.
Jiska Lambrecht, violin (Belgium)
Karolina Miśkowiec, violin (Poland)
Amir Liberson, viola (Israel)
Maura Rickenbach, cello (Switzerland)