Piotr Pyc - NOSPR
Piotr Pyc
Cor anglais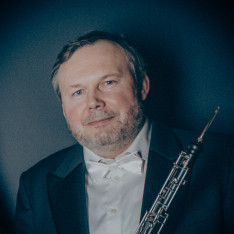 Piotr Pyc – oboe / cor anglais

He graduated from the Academy of Music in Kraków, where he was in Professor Jerzy Kotyczka's class, with distinction. He then started to work as first oboe in the Silesian Philharmonic in Katowice. Since the 2004, he has been an first oboist and a soloist (cor anglais) of the Polish National Radio Symphony Orchestra in Katowice.

As an orchestral musician he took part in over 2000 concerts, working with many ensembles – The Warsaw National Philharmonic Orchestra, the Kraków Philharmonic Orchestra, the Polish Chamber Philharmonic Orchestra Sopot and Sinfonietta Cracovia to name a few. He performed under the baton of such maestro conductors as Charles Dutoit, Lawrence Foster, Gabriel Chmura, Christian Eschenbach, Jacek Kaspszyk, Lorin Maazel, Jerzy Maksymiuk, Jerzy Semkow, Krzysztof Penderecki, Antoni Wit, Giancarlo Guerrero, Alexander Liebreich.

He is very active in soloist and chamber ensemble fields. He took part in numerous music festivals, including Nordsee and Schwetzinger Festspiele in Germany, as well as Warszawska Jesień (Warsaw Autumn).
Teaching is an important part of his work. He conducted many oboe courses and was jury member in music competitions around the country. He is a university professor at the Karol Szymanowski Academy of Music in Katowice, where he received the degree of Doctor of Art. His students and pupils win laurels at many competitions both in Poland and abroad.
e-mail: pyc@interia.pl
website address: http://www.piotrpyc.pl/en/