Rafał Zambrzycki - NOSPR
Rafał Zambrzycki
Violin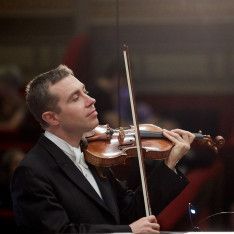 He has been concertmaster of the Polish Radio Symphony Orchestra since January 2014 r. From 2005 to 2014 he served in the same post with the Ensemble Modern – one of leading European ensembles specialised in performances of contemporary music. Moreover, he has been working with the Orchestra dell'Accademia Nazionale di Santa Cecilia, Scottish Chamber Orchestra and BBC Symphony Orchestra as guest concertmaster.
Born in Łódź, Zambrzycki comes from a musical family. He graduated from the Yehudi Menuhin School and schools in Manchester (tutored by Wen Zhou Li) and Vienna (tutored by Gerhard Schulz). The way he has been developing his skills has also been influenced by the work he did with Yehudi Menuhin and Jadwiga Kaliszewska.
He raised to fame as the winner of the BBC Young Musician of the Year and of the Parkhouse Award International Chamber Music Competition in London; he also won 2nd prize at the Luxemburg International Violin Competition.
Zambrzycki has performed in many countries of Europe, Asia, North America, Africa and the Middle East. He has been a soloist with numerous orchestras, such as: London Philharmonic Orchestra, Royal Philharmonic Orchestra, Philharmonia Orchestra, BBC Concert Orchestra, Royal Scottish National Orchestra, Royal Liverpool Philharmonic Orchestra, Johannesburg Philharmonic Orchestra, English Chamber Orchestra, Münchener, Zürcher Kammerorchester and Sinfonia Varsovia.
In 2004, he gave the first performance of A. Arutunian's violin concerto in Britain. In 2009, he gave the first Polish performance of H. Kulenta's 2nd violin concerto accompanied by NOSPR during the Warsaw Autumn festival. He has given multiple performances as a soloist with the Ensemble Modern, performing pieces such as B. Ferneyhough's Terrain (Salzburger Festspiele), A. Berg's Chamber Concert (Alte Oper Frankfurt, SWR Schwetzinger Festspiele) and D. Milhaud's Concertino de printemps (Kurt Weill Fest Dessau).
His discography includes recordings released by such publishers as EMI, Champs Hill Records and Ensemble Modern Medien to international critical acclaim and enthusiastic reception. In 2012, he recorder Z. Bagiński's Koncert skrzypcowy with NOSPR.
Zambrzycki is also a teacher, having taught masterclasses at such centres as the New World Center in Miami, the Beijing Central Conservatory of Music, the Conservatoire de Strasbourg, the Chinese University in Hongkong, as well as in Austria, Greece, South Korea and Japan.
He founded the Dimension Piano Trio, with which he performed at Wigmore Hall, St John's Smith Square, Cadogan Hall and Southbank Centre in London, Teatro Monumental in Madrid as well as at the Łańcut Music Festival and the Ludwiga van Beethoven Easter Festival in Warsaw. It has been with this ensemble that he has given many performances of L. van Beethoven's Triple Concerto, accompanied by local orchestras in the UK, Spain, Poland and Armenia.