Family Group mini - NOSPR
Season 23/24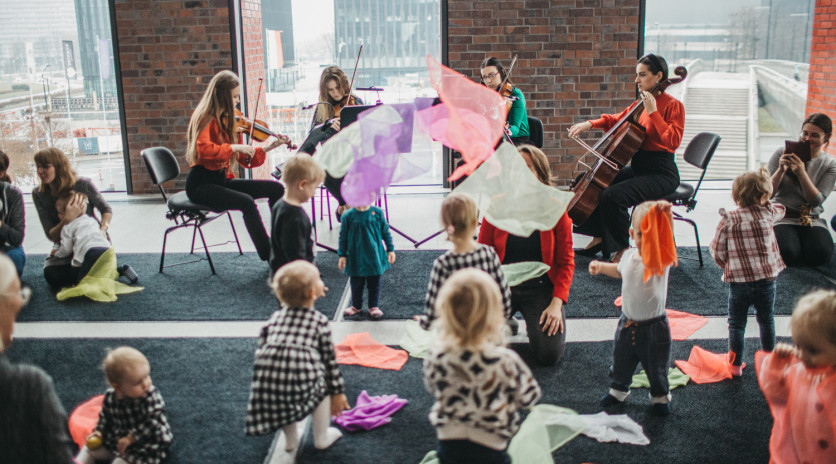 Date: 1 Saturday per month
Time:
10:00 AM (children aged 7 - 18 months)
11:00 AM (children aged 19 months - 3 years)
Tutor: Anna Lis
Location: Chamber Hall / Workshop Room
The Family Mini Group offers unique concert and workshop events designed for the youngest music enthusiasts, aged from 7 months to 3 years, whose parents wish to provide them with exposure to live music from the earliest months of their lives.
During these musical gatherings, the youngest participants, along with their parents, take their places among the musicians on stage, which becomes a space for relaxation, attentive listening, and spontaneous responses to the music. Throughout the concert, children and parents are at the heart of the experience, surrounded by sounds, entering a musical world without limitations or barriers, and becoming active participants themselves.
By allowing both children and parents to share the same space and level as the artists, we aim to create a comfortable atmosphere that fosters an uninhibited reception of music. Together, we listen, sing, sway, and engage with rhythm and melody. This concert is a celebration of live music and musical play, mostly conducted without words.
The presence of a parent or another close individual accompanying the child is crucial, as they become a natural "conduit" of musical beauty for the child by actively participating in the concert through singing and movement.
The Family Mini Group meets the needs of the youngest ones and serves as a preparation for their future participation in the Group Family concert series, where they will eventually take their places in the audience. ☺
Dates:
07.10.23 – Chamber Hall
25.11.23 – Chamber Hal
16.12.23 – Workshop Room
13.01.24 – Chamber Hall
17.02.24 – Chamber Hall
23.03.24 – Chamber Hal
06.04.24 – Chamber Hall
11.05.24 – Workshop Room
15.06.24 – Chamber Hall
Tickets:
Tickets priced at 20 PLN – includes admission for one child and one guardian (package deal)
Tickets go on sale one month before the scheduled event, exclusively at the NOSPR box office – in person or via phone numbers: 32 73 25 312 or 32 73 25 320.