Time for Music - workshops for seniors - NOSPR
Season 23/24
Time for Music - workshops for seniors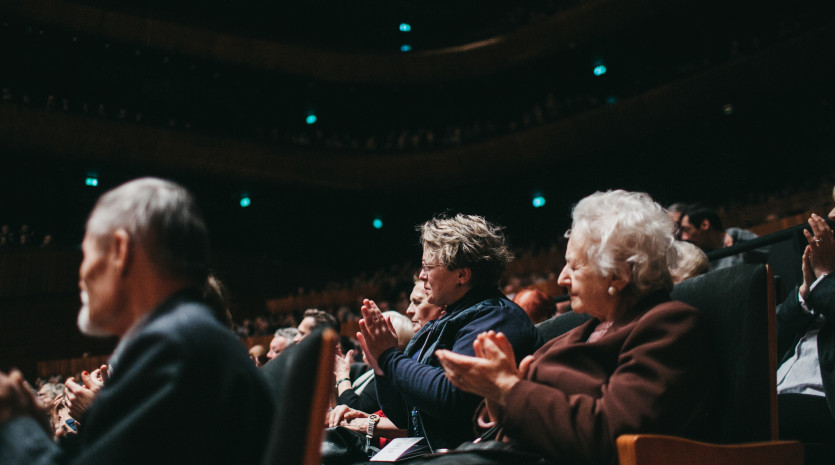 Seniors, some of our most loyal music enthusiasts – grateful attendees of our weekend and evening concerts, and also those who bring their grandchildren to our concerts and workshops, becoming a crucial part of their musical and cultural development.
That's why we thought that our Seniors could also visit us during the week, right after their morning coffee! :-)
Musical gatherings for seniors and adults are moments spent in a pleasant atmosphere, engaging in musical activities that are both activating and relaxing, led by a qualified music therapist. These meetings aim to integrate participants with others, enhance well-being, and increase physical and intellectual activity. Through various active and receptive techniques, each individual can find ways to musically express themselves, from singing familiar and unfamiliar songs, creating new ones, playing instruments, engaging in movement improvisations, to breathing and relaxation exercises. Due to the nature of the activities, the music therapist takes great care of participants' safety and well-being. The workshops follow a specific plan, but it's always adjusted and modified according to the participants' current needs. No musical skills are required to participate – music is for everyone, and everyone can benefit from its rewards.
As Norwegian music therapist Even Ruud writes, 'Being engaged in music signifies a stronger sense of identity and a gradual pursuit of improving the quality of one's life.' This principle will guide us in our meetings as well.
Tutor: Dr. Sara Knapik-Szweda
Dates: 2 times per month on Wednesdays, 11:30 AM – 12:30 PM
Information about registration coming soon!
Dr. Sara Knapik-Szweda - certified music therapist MT-C, special needs educator, tutor, supervisor, and academic staff member at the Faculty of Social Sciences, University of Silesia in Katowice. She is a member of the Polish Association of Music Therapists. She works with families in the neonatology department at the Municipal Hospital in Ruda Śląska and in her own music therapy practice "Muzka," where she conducts individual and group sessions with children, youth, and adults. She specializes in working with young children and their families (especially those with autism spectrum disorders or ADHD) as well as premature babies. She collaborates with numerous Polish and foreign music therapists. Author of the book: 'The Significance of Music Therapeutic Techniques in Supporting the Development of Children with Autism' (Difin Publishing 2020).