Sounds within us and around us - NOSPR
Season 23/24
Sounds within us and around us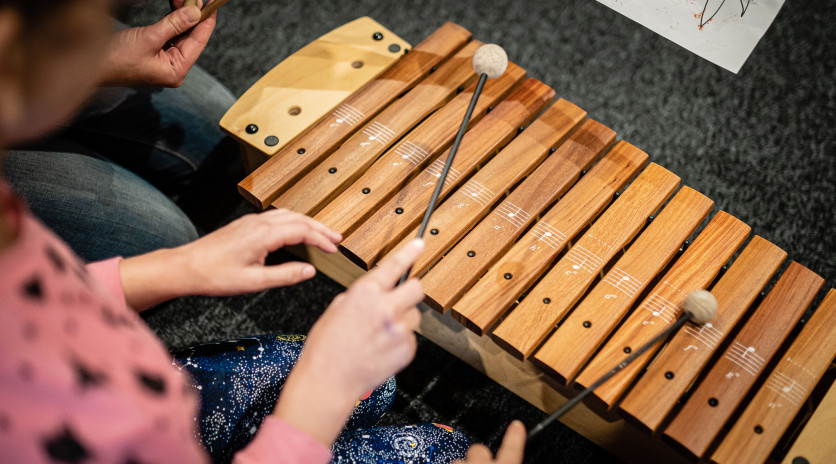 Date: 1 Saturday per month, 10:00 PM
Tutor: Sara Knapik-Szweda
Location: Workshop Room
We want NOSPR to be welcoming and open to as many audience members as possible, which is why we've initiated a new series of musical sessions inviting families with special needs. During these 45-minute workshops, colors, textures, and shades of music will take center stage. We'll have fun with music, play instruments, create, listen to ourselves and others.
These workshops are intended for children with neurodiversity, disabilities, as well as sensory, communication, and social challenges. The sessions will be led by a certified music therapist. We invite children aged 3-6 along with their parents to join in for collective creation, listening, play, and moments of calm amidst soothing sounds within a safe space.
Dates: 07.10, 25.11, 09.12, 13.01, 17.02, 23.03, 06.04, 18.05, 15.06
Information about registration coming soon!
Dr. Sara Knapik-Szweda - MT-C certified music therapist, special needs educator, tutor, supervisor, and academic staff member at the Faculty of Social Sciences, University of Silesia in Katowice. She is a member of the Polish Association of Music Therapists. She works with families in the neonatology department at the Municipal Hospital in Ruda Śląska and in her own music therapy practice "Muzka," where she conducts individual and group sessions with children, youth, and adults. She specializes in working with young children and their families (especially those with autism spectrum disorders or ADHD) as well as premature babies. She collaborates with numerous Polish and foreign music therapists. Author of the book: 'The Significance of Music Therapeutic Techniques in Supporting the Development of Children with Autism' (Difin Publishing 2020).