Workshops for Groups with Special Needs - NOSPR
Season 23/24
Workshops for Groups with Special Needs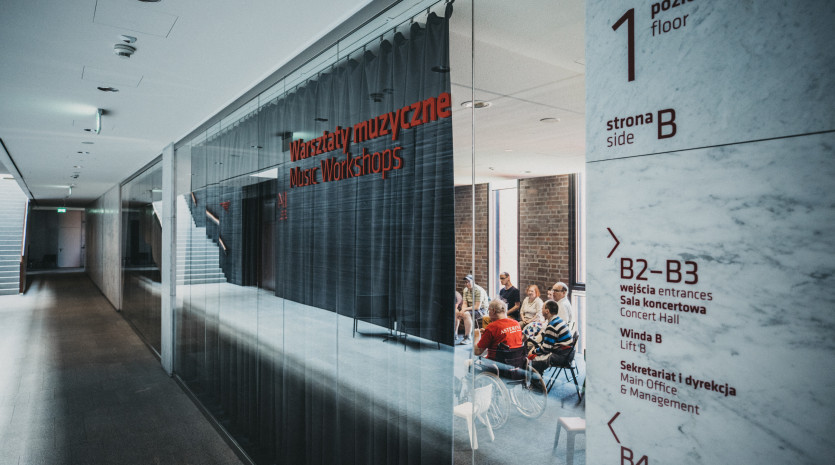 Our aim and goal in these workshops is to reach every participant, tapping into their sensitivities regardless of the extent of their disabilities. We aspire to make music accessible to all. In our upcoming season, we offer a workshop space for children, adolescents, and adults with intellectual, physical disabilities, as well as for those who are blind or deaf. These workshops primarily focus on singing, playing instruments, dancing, and movement (adjusted to individual participants' physical / motor capabilities). We also engage in various musical and rhythmic games, integrating activities using scarves, ribbons, and "klanza" scarves, which also serve as excellent materials for visualizing music.
For participants who are visually impaired or blind, we emphasize sensory perception and its significance in discovering and experiencing music through all senses, with particular attention to the simultaneous auditory and tactile stimuli.
Workshops for individuals with hearing impairments are based on the perception of sound waves beyond hearing-interpreting sound waves and musical phenomena in a completely different way than through the auditory organ.
Participants have the opportunity to overcome inhibitions, temporarily forget their limitations, and be encouraged to explore, create, and experiment independently. These sessions are conducted in a playful atmosphere that brings joy to both participants and facilitators, helping release challenging emotions and tension and facilitating relaxation.
Music carries a significant social and emotional potential. As stated by Norwegian music therapist Even Ruud, "engaging in music means a stronger sense of identity and a gradual striving for an improved quality of life." This principle guides our approach in these workshops.
Tutors: Dr. Sara Knapik-Szweda / Anna Lis
Dates: Individually scheduled. Workshops take place in the morning hours.
Dr. Sara Knapik-Szweda - Certified music therapist (MT-C), educator for individuals with disabilities, tutor, supervisor, and academic staff member at the Faculty of Social Sciences, University of Silesia in Katowice. She is a member of the Polish Association of Music Therapists. She works with families in the neonatal ward at the Municipal Hospital in Ruda Śląska and runs her own music therapy practice called Muzka, offering individual and group sessions for children, adolescents, and adults. She specializes in working with young children and their families (especially those with autism spectrum disorders or ADHD) as well as premature babies. She collaborates with numerous Polish and international music therapists. She authored the book "The Significance of Music Therapeutic Techniques in Supporting the Development of Children with Autism" (Difin Publishing, 2020).